Pengaruh Akupresur Pada Titik Akupresur Ex-HN3 dan P6 Terhadap Tingkat Kecemasan Pada Trimester Ketiga
Effect of Acupressure at Ex-HN3 and P6 Point Acupoints on Anxiety Level in Third Trimester
Keywords:
Akupresur, kecemasan, kehamilan
Abstract
Latar Belakang: Kecemasan seringkali dialami oleh ibu hamil selama kehamilan.Kecemasan yang dirasakan ibu hamil pada umumnya yaitu ketakutan terhadap kelahiran prematur, komplikasi kehamilan dan persalinan yang dapat menyebabkan kematian. Apabila kecemasan tidak ditangani akan berdampak negatif pada kesejahteraan ibu dan bayi. Tujuan Penelitian: Penelitian ini bertujuan untuk membuktikan pengaruh akupresur terhadap penurunan tingkat kecemasan pada ibu hamil. Metode Penelitian: Penelitian ini menggunakan pre-experimental design, dengan pendekatan pretest-posttest group design. Subyek penelitian adalah ibu hamil trimester III, jumlah total subyek yaitu 20 orang yang dipilih dengan consecutive sampling. Akupresur pada titik yintang dan neiguan diberikan  setiap hari selama satu minggu. Instrumen pengukuran tingkat kecemasan adalah Zung Self Anxiety Scale (ZSAS) dan analisis data menggunakan paired t-test. Hasil Penelitian: Hasil analisis paired t-tes menunjukkan terdapat perbedaan signifikan rerata skor ZSAS antara sebelum dan setelah diberikan perlakuan (p-values <0.05). Kesimpulan: akupresur memberikan pengaruh signifikan terhadap penurunan tingkat kecemasan pada ibu hamil trimester III.
References
M. J. S. IM Bobak, DL Lowdermilk, Buku Ajar Keperawatan Maternitas. 4th ed. Jakarta: EGC, 2012.
Fadzria and M. S. Harahap, "Gambaran Tingkat Kecemasan Pada Ibu Hamil dalam Menghadapi Persalinan di Desa Tualang Teungoh Kecamatan Langsa Kota Kabupaten Kota Langsa Tahun 2014," J. Kedokt. Syiah Kuala, vol. 16, no. 1, pp. 6–13, 2016.
A. Isworo, M. Hakimi, and T. Agung Wibowo, "Hubungan antara Kecemasan dengan Kejadian Preeklampsia Di Kabupaten Banyumas Jawa Tengah," Ber. Kedokt. Masy., vol. 28, no. 1, pp. 9–19, 2012, doi: 10.22146/bkm.3385.
D. Trisiani and R. Hikmawati, "Hubungan Kecemasan Ibu Hamil Terhadap Kejadian Preeklampsia di RSUD Majalaya Kabupaten Bandung," J. Ilm. Bidan, vol. 1, no. 3, pp. 14–18, 2016.
D. Gibson-Smith et al., "Maternal Anxiety During Pregnancy and the Association With Adverse Perinatal Outcomes: Systematic Review and Meta-Analysis," J. Clin. Psychiatry, vol. 77, no. September, pp. 22–27, 2015.
N. Gomakani, M. Gholami, F. Shaghaghi, H. Safinejad, Z. Kamali, and Z. Dehnavi, "Relationship Between Fear of Childbirth and the Sense of Cohesion with the Attachment of Pregnant Mothers to the Fetus," no. January, pp. 1–6, 2020, doi: 10.4103/jehp.jehp.
K. K. Das, "Consciousness and its relation with subconscious mind : The mystery probed," 2019.
A. Guyton and J. E. Hall, Guyton and Hall Textbook of Medical Physiology, 13 TH. New York: WB. Saunders Company, 2013.
S. M. Southwick and D. S. Charney, "The science of resilience: Implications for the prevention and treatment of depression," Science (80-. )., vol. 338, no. 6103, pp. 79–82, 2012, doi: 10.1126/science.1222942.
J. M. Shyken, S. Babbar, S. Babbar, and A. Forinash, "Benzodiazepines in Pregnancy," Clin. Obstet. Gynecol., vol. 62, no. 1, pp. 156–167, 2019, doi: 10.1097/GRF.0000000000000417.
R. I. W. Hartono, Akupresur untuk berbagai penyakit. Yogyakarta: Rapha Publishing, 2012.
I. Neri, R. Bruno, G. Dante, and F. Facchinetti, "Acupressure on Self-Reported Sleep Quality During Pregnancy," JAMS J. Acupunct. Meridian Stud., vol. 9, no. 1, pp. 11–15, 2016.
D. P. Lu and G. P. Lu, "A comparison of the clinical effectiveness of various acupuncture points in reducing anxiety to facilitate hypnotic induction," Int. J. Clin. Exp. Hypn., vol. 61, no. 3, pp. 271–281, 2013.
R. I. Hartono, Akupresur Untuk Berbagai Penyakit, I. Yogyakarta: Yogyakarta Rapha Publishing, 2012.
D. M. Fraser and M. A. Cooper, Buku Ajar Bidan Edisi 14. Jakarta: EGC, 2009.
E. Schiff, S. Gurgevich, and O. Caspi, "Potential synergism between hypnosis and acupuncture - Is the whole more than the sum of its parts?," Evidence-based Complement. Altern. Med., vol. 4, no. 2, pp. 233–240, 2007, doi: 10.1093/ecam/nel069.
J. Li, X. Ran, C. Cui, C. Xiang, A. Zhang, and F. Shen, "Instant sedative effect of acupuncture at GV20 on the frequency of electroencephalogram α and β waves in a model of sleep deprivation," Exp. Ther. Med., vol. 15, no. 6, pp. 5353–5358, 2018, doi: 10.3892/etm.2018.6123.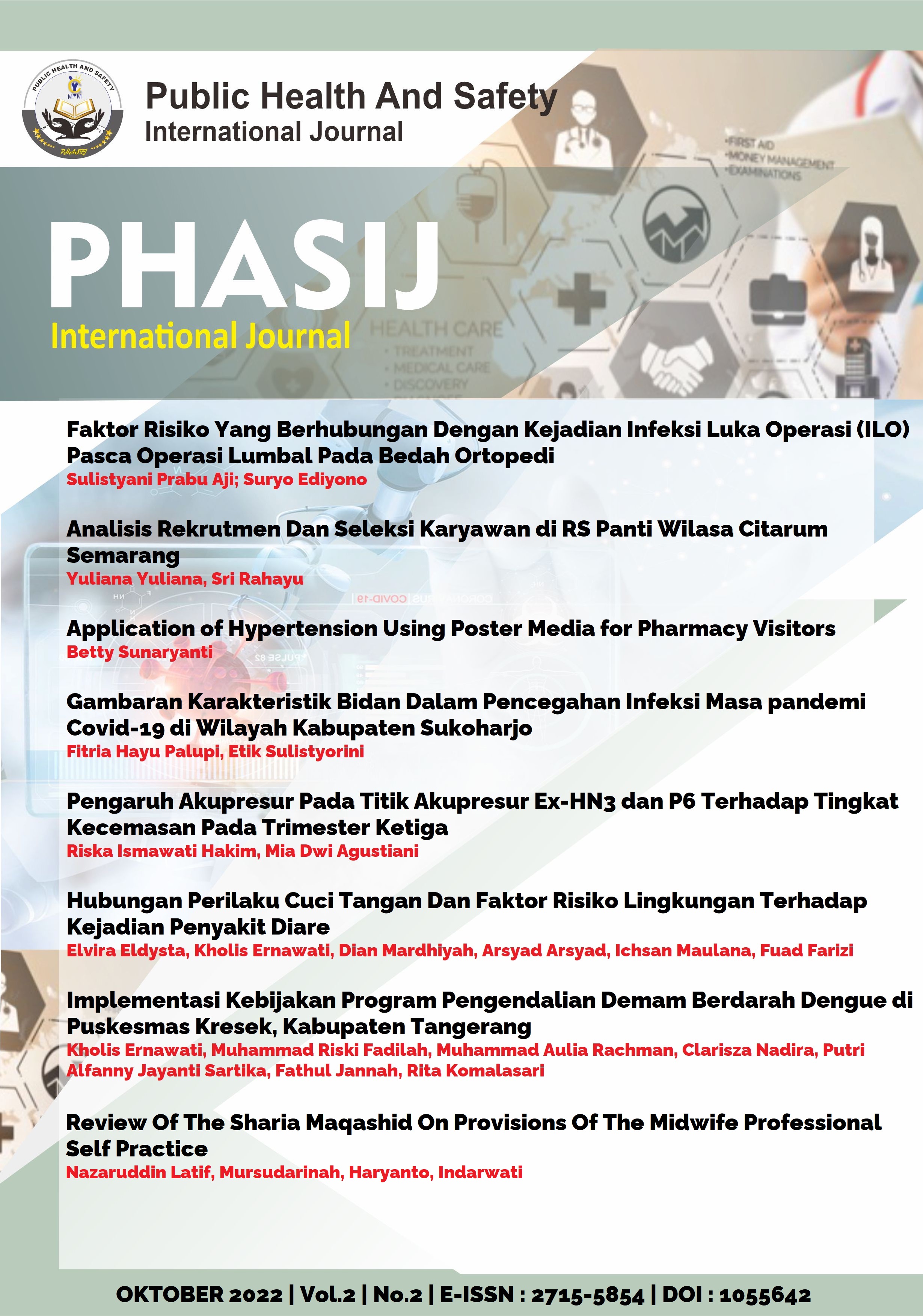 Downloads